Let us build an in-house ad tech stack tailored just for your team.
AdWheel clients may request the custom development of ad serving features. This includes detailed budget tracking, ad formats, multi-thread management or any other feature your business might need. Our Features
Expand Your Inventory
When User Acquisition, Targeting Settings and Budget under contorl — Profits Happen
Performing Ad Formats

Third-Party tags, VAST Prerolls Support

World-Wide CDN

Free White-Label Solution

24/7 Customer Support
Gain Actionable Analytics
Measure ad performance with multilevel granular analytics, create custom reports & get timely updates on your KPIs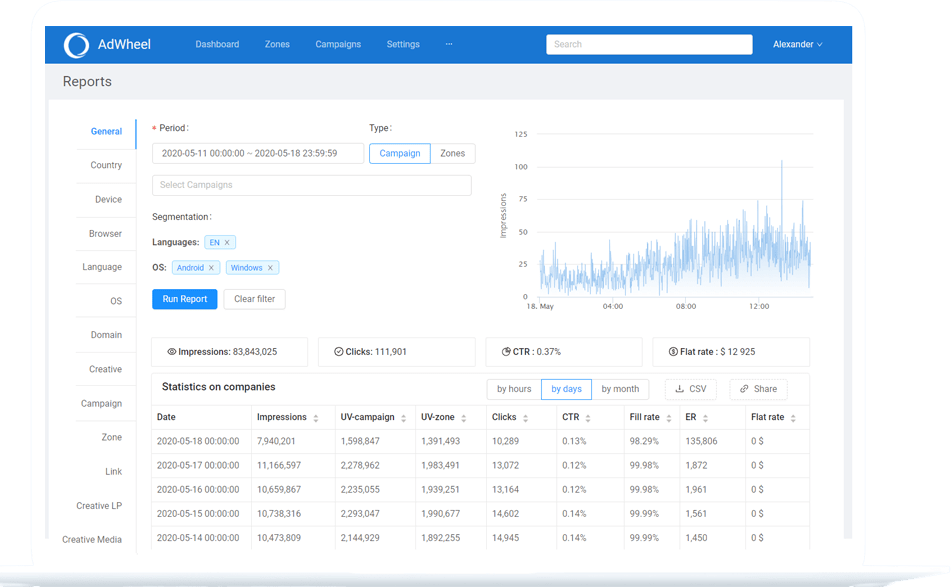 All-in-one Analytics Dashboard
AdWheel gathers the analytics of all your demand sources into one convenient spot
Easily take care of all your monetization businesses, like Conversions, FlatRate, eCPM budget directly through AdWheel
Multi-Level Segmentation Reports
Get a deeper and more connected view of your metrics by data segmentation your ad revenue analytics at the impression and user level
Share Options
No need to download CSV files or provide logins
Share pre-generated reports with your colleagues instantly. Control your sensitive data
Ready to start serving ads?
Take a free 30-day trial to see if AdWheel is a fit your targets